Lenovo ThinkVision P44w, analysis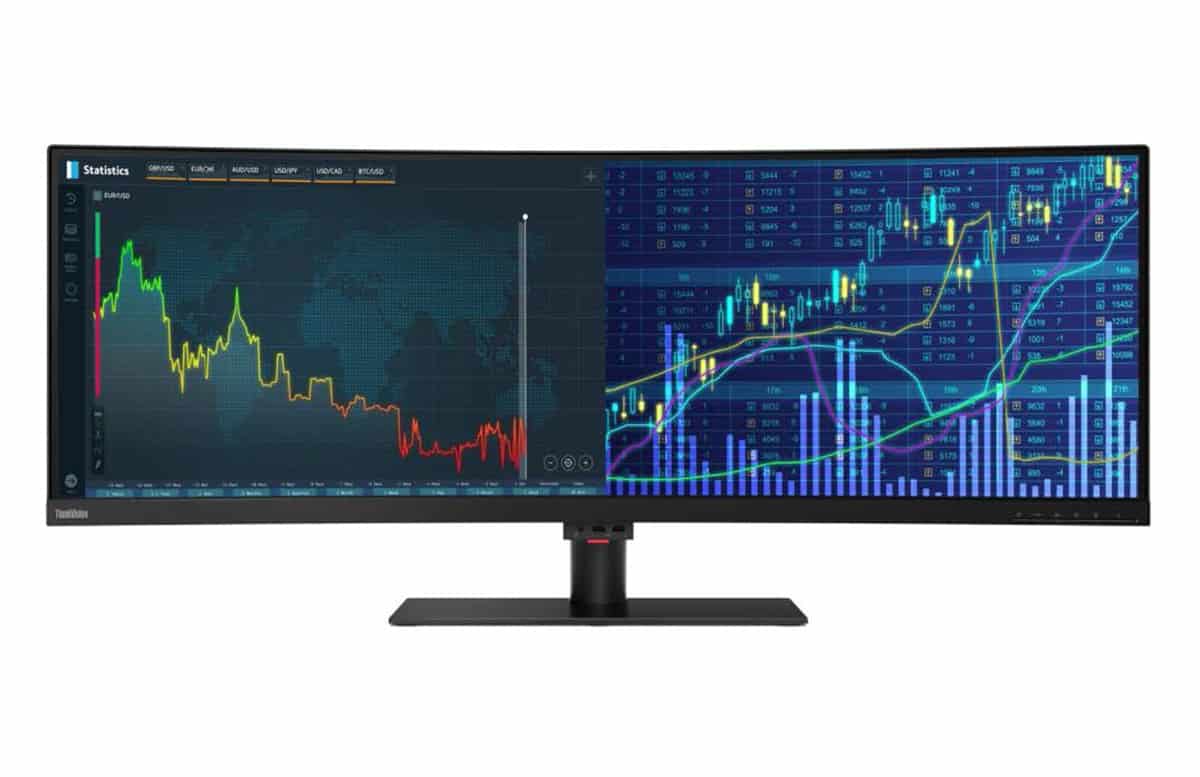 There is no way back. Once you try an ultra-panoramic monitor you are lost. These monitors do not fit into any possible use scenario, and some users may not convince them, but they have the ability to greatly improve our experience when editing video, programming and working with databases or spreadsheets, among other options. They are also attractive to users who need to have several windows in the foreground . They even fit well with some video games.
Just take a look at the specifications of this monitor to realize that this time Lenovo has gone all out . And it has almost everything that ambitious users can ask for: a 43.4-inch curved panel and 32:10 aspect ratio, careful connectivity, HDR, a resulton design … But all this is nothing more than a appetizer. This is one of those monitors worth talking about long and hard.
Lenovo ThinkVision P44w: technical specifications
This monitor does not hide his strong professional vocation, and this aspiration causes one of its most relevant characteristics to be, at least, curious. And is that Lenovo engineers have opted for a VA-type LCD panel , a relatively unusual technology in these devices. Professional monitors usually bet on IPS panels, which stand out for their color reproduction and wide viewing angles, and gaming monitors usually use TN panels, which offer us a very low response time and high refresh rates, or IPS, with a higher response time but also with higher image quality.
Lenovo engineers have opted for a VA-type LCD panel that stands out for its native contrast, brightness and low presence of light leaks
VA panels are frequent on LCD TVs (in fact brands like Sony or Samsung use them in many of their proposals ), but they are less popular in the monitor market. In any case, they have tricks that make them attractive , such as their high contrast ratio, their ability to deliver brightness and the low presence of light leaks. Their response time is usually higher than that offered by IPS panels, and, of course, also TN, but this feature in a professional monitor like this should not be a problem.
Although it is curious that Lenovo has chosen to use a VA panel and not IPS on this monitor, it is its features that really attract attention. They highlight its 32:10 aspect ratio (perfect for keeping three or more windows in the foreground), its curvature, its resolution (3,840 x 1,200 points) and its refresh rate of 144 Hz. It also has a remarkable native contrast ratio ( 3,000: 1), which, as we have seen, is one of the usual tricks of the VA panels, and a maximum brightness delivery capacity of 450 nits (its typical value ranges around 380 nits) which makes it compatible with the VESA DisplayHDR 400 standard .
The panel of this monitor stands out for its 32:10 aspect ratio, its curvature, its contrast and its 144 Hz refreshment
According to Lenovo, the horizontal and vertical viewing angles of this monitor reach 178 degrees , a value that is really good, especially if we consider that this is one of the most relevant handicaps of VA panels. However, in this field the curvature of the panel plays in favor of this monitor because it achieves that the angle from which a user sitting in front of the center of the device perceives the light emitted by the ends of the panel is smaller than in a completely flat panel .
I am not particularly interested in curved panel televisions (and it is not surprising that they have lost much of the attention that they awoke at first), but I think that curved panels fit like a glove on ultra-panoramic monitors due to the reduced distance that usually separate them from the eyes of the users. The curvature helps reduce the perception of color degradation at the ends of the panel.
| LENOVO THINKVISION P44W | FEATURES |
| --- | --- |
| PANEL | Ultra-panoramic 43.4-inch VA LCD (32:10 aspect ratio) and curved (1800R curvature) |
| RESOLUTION | 3,840 x 1,200 points |
| REFRESCO FREQUENCY | 144 Hz |
| BRIGHTNESS | 380 nits (typical brightness) |
| CONTRAST | 3,000: 1 |
| COLOR SPACE COVERAGE | sRGB: 99.5% / BT.709: 99.5% / DCI-P3: 90% |
| PRECISION OF COLOR CALIBRATION | Delta E average <2 |
| HDR | VESA DisplayHDR 400 certification |
| RESPONSE TIME | 4 ms (gray to gray) in extreme mode and 6 ms (gray to gray) in normal mode |
| DISPLAY ANGLES | 178 ° / 178 ° |
| CONNECTIVITY | 2 x HDMI 2.0, 1 x DisplayPort 1.4, 1 x USB 3.1 Type C Gen 2 (DisplayPort 1.4), 1 x USB 3.1 Type C Gen 1 (DisplayPort 1.2) and 1 x audio output |
| SPEAKERS | Not included. It is compatible with optional Harman Kardon speakers |
| DIMENSIONS | 107 x 52 x 28.5 cm |
| PRICE | 1,612.31 euros |
Design and connectivity: markedly professional vocation
In the photographs that illustrate this article you can see that the design of this monitor is sober, a characteristic in line with its professional vocation. Their frames are not the finest I've seen in a product of this type, but they don't shave it. And the polycarbonate used by Lenovo in the plastic parts is of good quality, as you would expect from a device that costs more than 1,600 euros. However, the element in which the engineers of this brand have "cast the rest" is the base , a component that on a monitor that is more than one meter wide acquires a capital relevance.