Smart speakers with Facebook screen now also make WhatsApp video calls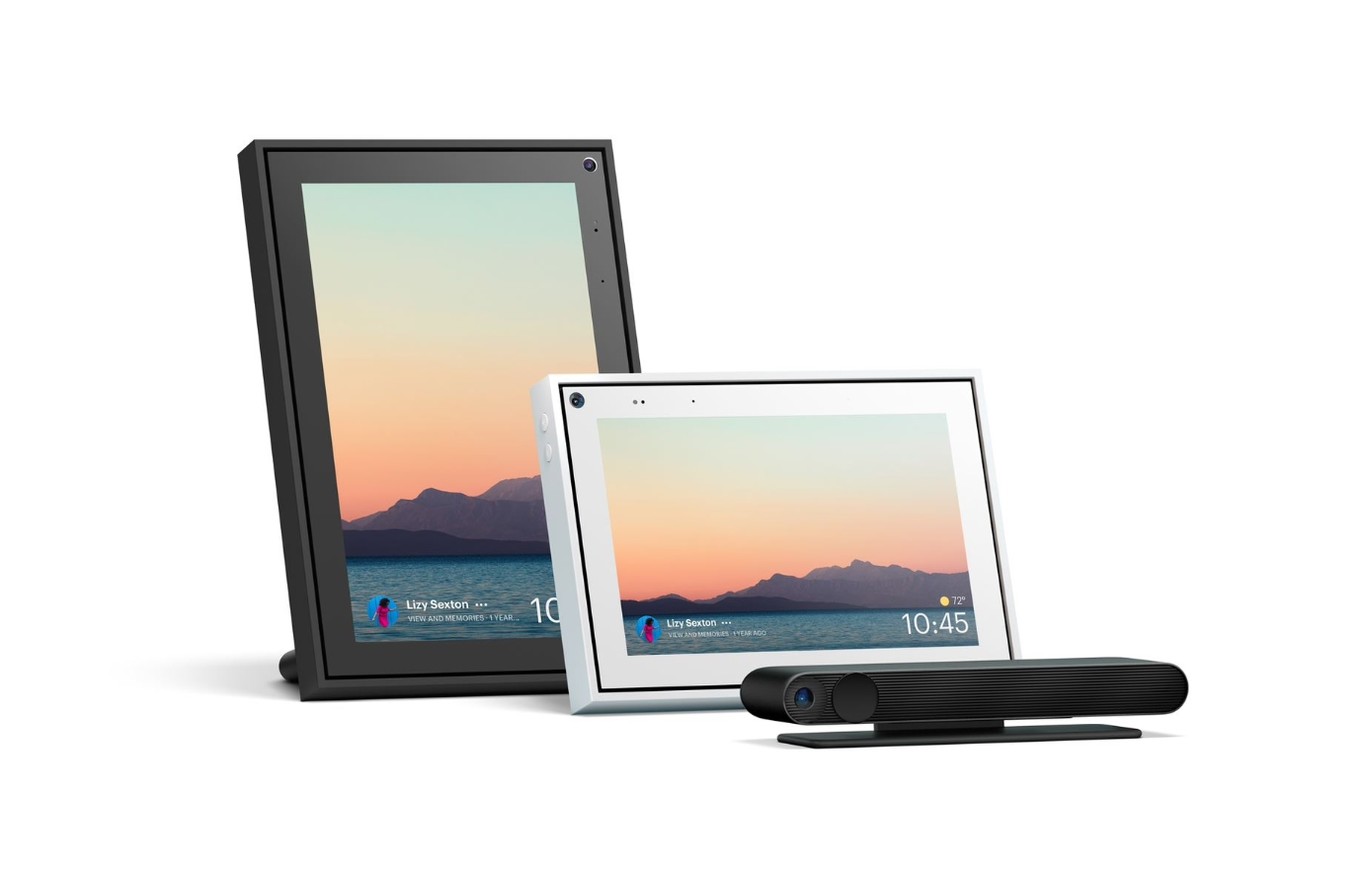 A little less than a year ago Facebook launched a surprising family of hardware products. Not because of the devices themselves, but because in the midst of a privacy crisis, the Zuckerberg firm dared to present its Portal , products that combined digital frame and smart speaker functions with those of video calls via Messenger .
That decision generated some controversy, but the truth is that these devices have ended up living with competitors from other manufacturers such as Google or Amazon. Now the Facebook Portal family also arrives in Spain with one of those models from last year and three other new models, and it does so with a clear message that highlights not only its functions, but also its respect and protection of our privacy. That's what they say on Facebook, of course.
Data sheet
In the data sheet of these four products – the Portal + is from last year – we can see how the resolution of the screens in the Portal is not too exceptional, and is limited to 1,280 x 800 pixels : enough for good image quality, but without becoming Full HD.
| | MINI PORTAL | PORTAL | PORTAL + | TV PORTAL |
| --- | --- | --- | --- | --- |
| SCREEN | 8 inches, 1280×800 pixels | 10 inches, 1280×800 pixels | 15.6 inches, 1920×1080 pixels | TV compatible via HDMI |
| SIZE | 214.82 x 150.25 x 127.05 mm | 259×86 x 178.65 x 141.16 mm | 450 x 145.5 x 224 mm | 190 x 30 x 56.9 mm |
| WEIGHT | 615 g | 770 g | 3,360 g | 310 g |
| CAMERA | 13 MP, 114 ° FOV | 13 MP, 114 ° FOV | 12 MP, 140 ° FOV | 12.5 MP, 120 ° FOV |
| MICROPHONE | Long range, 4-microphone array, omnidirectional | Long range, 4-microphone array, omnidirectional | Long range, 4-microphone array, omnidirectional | Long range, 8 microphone array, omnidirectional |
| SPEAKER | 2 x full range controller, 1 x 2 inch bass | 2 x full range controller, 1 x 2 inch bass | 2 x treble, 1 x 4-inch bass, passive speaker | 1 full range speaker |
| PRICE | 149 euros | 199 euros | 299 euros | 169 euros |
The advances with respect to the Portal + model of last year are seen in its set of speakers and its camera, which happens to be 13 Mpxels with a smaller field of vision , something logical if we take into account that the design integrates them into one of the Marcos, while in the Portal + that camera had a much more dominant position.
Four models for different users
In this launch in Spain – they are also actually put up for sale in the United Kingdom, France, Italy, Australia and New Zealand – we have the Portal + of last year and the three new members of this family: Portal, Portal Miniy Portal TV , which They arrive with designs that are significantly different from those of their predecessors.
In the first two, Portal and Portal Mini, we have a format that hides the speakers: these, like the camera, were very prominent in the first generation models, but now everything is integrated into a design that mimics that of a frame of digital photos .
The third of that format is the Portal +, the same model last year that stands out for being bigger and that also does not hide speaker or camera , maintaining the design of the products that were presented last year.
In Portal and Portal Mini the cameras are located in one of the upper corners, and except for their screen diagonals (8 inches in the Mini, 10 inches in the normal model and 15.6 inches in the Portal +) the features coincide and are the following :
Video calls : supports both calls with Messenger and WhatsApp, something that is new in this edition and that stands out for that end-to-end encryption that protects the confidentiality of those calls. The camera of these devices automatically zooms in or out so you can move and talk freely without leaving the frame.
Augmented reality : the product also includes a small component of augmented reality that allows adding masks and effects on the image and also allows the user to become part of the stories that are told with Story Time, one of the functions designed especially for smallest of the family.
Superframe : in addition to the video calls it is clear that the other great function of these products is to serve as digital photo frames, and in them we can visualize the photos and birthday reminders in addition to knowing what friends are available to connect with them.
Amazon Alexa : the smart speaker function is also another of the fundamental components of these devices, and here Alexa, the Amazon assistant, is the protagonist of an experience in which we can take advantage of the numerous skills to complete that experience.
Speaker : The Portal are also speakers for our music via Bluetooth or Wi-Fi, and are compatible with Spotify, Pandora and iHeartRadio.
TV Portal, to turn your own TV into one of these products
In addition to these products, the introduction of Portal TV stands out , which transfers the experience of Portal video calls to your own TV.
It connects to any TV with an HDMI connection and from there we can access the same options as the rest of the family members, including converting that television into a gigantic photo frame with the Superframe function.
The design is more discreet and in fact it is easy to confuse it with the old Kinect that Microsoft created for gesture control on the Xbox and Xbox One. Its speaker system is more ambitious than that of the rest of the family devices, and its Camera is also slightly different in terms of resolution and field of view.