MotoGP is postulated as the future of Yamaha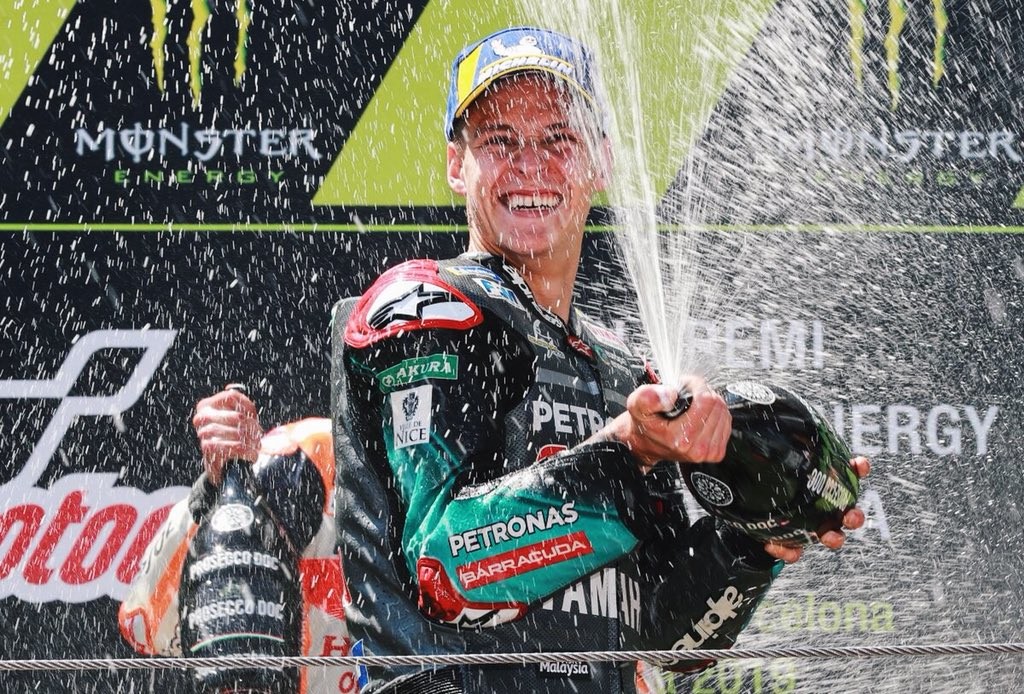 All the dust of controversy that has arisen after the Grand Prix of Catalonia MotoGP has made unnoticed something that should not. The impressive performance of Fabio Quartararo, who was one step away from becoming the youngest winner in the history of the MotoGP World Championship.
They say in France that an 'enfant terrible' is a child who asks particularly embarrassing questions to adults, and it is a definition that fits like a ring to Quartararo's finger. The Frenchman tutored everyone in Montmelodespite the problems in the forearm recently operated. And is that Fabio Quartararo went through workshops after Mugello to solve the compartment syndrome .
Fabio Quartararo dominated the FP2, made the pole position and was the fastest of the Warm Up
The Quartararo weekend was spectacular. On Friday, he achieved the best time of the day in the second free practice with a time of 1: 40.079, but still had a few tenths in his pocket. On Saturday, when the moment of truth arrived , Quartararo stopped the clock in 1: 39.484 and got his second pole position of the season .
And the time could be even better not to find Maverick Viñales in the last lap thrown . When Fabio Quartararo was improving even more the time of his own pole he found Viñales waving to the stands, which caused him to cut gas. An action that ended up costing him a three-place penalty to Maverick.
In the race it seemed that Quartararo was going to dwindle. He made a bad start and lost many positions, but Jorge Lorenzo's strike cleaned up the scene and put him back in the fight for the podium. Still, it was to be expected that the physical exhaustion in that newly operated forearm would end up taking its toll , but nothing could be further from the truth.
In a few colossal laps, Quartararo managed to get rid of the official motorbikes of Álex Rins and Danilo Petrucci to go solo to the second position of the podium. Cold and calculating, the new silent assassin of MotoGP awaited his moment to give the final pull and climb to the drawer.
With this second place Fabio Quartararo is the second youngest driver in history to climb to a podium , only behind Marc Márquez. And no one in the paddock doubts that the future is his, and that Quartararo is destined to be the pilot who will fight the world championship to the legend of Marc Márquez in the second half of his career.
Now it is foreseen that a war between brands begins to ensure the talent of Fabio Quartararo from 2020 , when his current contract ends. In principle, Yamaha should be the favorite: it is the house that gave him the opportunity in the worst moments, he already knows the bike and the team and, in addition, they have the ideal gap, which will foreseeably leave Valentino Rossi.